Can you ever forgive me? Could this sweater de-fuzzer help?

How does one simply re-enter the newsletter stratosphere after an unexpected and unannounced four-month hiatus?
I've thought about how I might possibly crawl out of my cozy shame hole to finally sum up Hannah's Bachelorette season for months. I knew it would need to be big and bold and — to, I dunno, maybe change your life — because at this point, Hannah has moved from single-handedly winning her own season of The Bachelorette, to winning a People's Choice Award, to single-handedly putting an end to Sean Spicer's Dancing With the Stars reign of terror and winning the coveted DWTS mirror ball trophy, all while wearing more athleisure and sunless tanner than even a career in beauty pageants could have prepared her for…
And eventually, I shall share some final thoughts on Hannah's rather meaningful season of The Bachelorette — spoiler alert: they involve a checkout youth at my local Trader Joe's telling me that she learned what gaslighting was from watching Hannah's season, and then she told her best friend about it who was currently being gaslit, and that best friend consequently broke up with her dumbass boyfriend, and even though the past tense of "gaslight" is still a mystery, those girls' futures are brighter thanks to the neon warning glow Luke P and Jed's asseholery — but I'll delay that until The Bachelor rolls back around with Pilot Pete's unscented white candle of a season (I'm sorry to this man).
Have you missed these 200-word-long sentences, yes or no?
Aaaaanyway, while I sat paralyzed with indecision on how to come groveling back to you, dear reader, the path to apology and reviving TATBT's dusty archives was delivered directly to my mailbox, lit'rally tied up with a bow.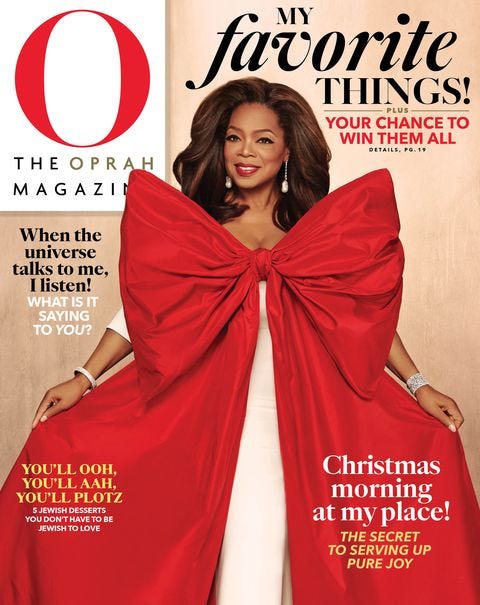 For months, I have been receiving O, The Oprah Magazine at my home even though I've never signed up or paid for it.
As it turns out, 'twas the USPS gods who subscribed me, knowing that on this day in November, I would need to see Oprah's "My Favorite Things" laid out in all their 30-page glory so that I may find my way back to writing this newsletter. (The divine reasoning for also receiving ESSENCE every month is yet to be determined, but I will keep shaking each new issue for perfume samples until I figure it out).
That's right, baby: one day before Thanksgiving, and it's officially Holiday SZN at TATBT! And what better way to kick it off than a detailed analysis of the wildest items on Oprah's Favorite Things list? You get a reversible dog bandana, and YOU get a reversible dog bandana, YOOOOOU GET A REVERSIBLE DOOOOG BANDANAAAAAA!
"Here are 79 gifts I think are just great!" — Oprah
The best thing about viewing Oprah's Favorite Things in print, as opposed to simply clicking through an online gallery, is that you're given the real sense that Oprah picked these 79 Favorite Things herself. After all, she thinks they're just great! From time to time, the printed descriptions even go so far as to dabble in the first person, like when Oprah informs of us of her life's guiding ethos — "I believe in truth, justice, and a great nude lip" — or says of pesky sweater-pilling, "I call them beady balls, and I am not a fan."
Not only are you learning 79 things that Oprah is a fan of (sweater de-fuzzers, hemp extract in her lotions, stackable bracelets, stackable rings, stackable candles, etc.), but also what she's not a fan of: beady balls and any piece of clothing that is not made entirely of fleece or flannel.
But Oprah's Favorite Things list isn't merely about the 79 items on the page — it's also about what you can read in between the Things. In no particular order, here is a list of the most insane phrases Oprah uses to describe very normal items that I encourage you to randomly throw out at the Thanksgiving dinner table should conversation turn irreparably to politics:
"Where we're going we don't need zippers…"

"Hello, I'm Oprah, and I'm a truffaholic…"

"Sarah Jessica Parker herself showed me how much she can fit inside…"

"What's cooking? Potentially everything…"

"I approve of this dishwasher-safe cup as a woke way to wake up…"

"The Rabbit is reproducing…"
It's worth noting that between the incredibly phallic Rabbit electric corkscrew, the motorized makeup brush, the wearable massager, and the small balls you charge with a USB port… at least one third of Oprah's Favorite Things seem to be secret vibrators. So get your credit cards ready and put on some Marvin Gaye, because it's time to talk about the only 79 gifts your loved ones can legally accept this year.
---
Oprah's Favorite Things leads with a full-page spread devoted to the Apple Watch, starting off with this Q&A between Oprah and Oprah:
"Wondering whether to get the new titanium Apple Watch? Here's the answer: You must!"
Now, Oprah knows — Oprah, you know — that I would follow her to the ends of the earth. I would follow her to a Manhattan Trader Joe's on a Saturday at noon, to a Planet Fitness men's locker room; for Oprah, I would time travel back to the days of drinking pineapple Burnett's mixed with Crystal Light from a water bottle, then going to an 8 a.m. philosophy class the next morning…
But with the suggestion that I must get a $799 Apple Watch, Oprah has almost lost me before we've even gotten started. Because before I can start wondering about getting the new titanium Apple Watch, I have to wonder at what point my iPhone 6 is just going to stop allowing me to use it as anything more than a flashlight. My phone currently has enough space for exactly one extraneous app; if you are my friend, you can either call the Lyft and I can Venmo you for it, or I can call the Lyft and Venmo you for nothing, ever — I cannot do both.
But Oprah has said I must, and so I will. I can't wait for my new titanium Apple Watch to "make doctors obsolete" while I, personally, delete enough photos from my phone so that I can re-download the calculator app.
---
But wait just one second! Because look who has two thumbs, an ass shaped within an inch of its life by Lycra, and something in common with Oprah again — ME!
Now, I'd never have any reason to wear actual pant-shaped Spanx because the closest I get to an office-setting is when I put on lip balm and a turtleneck dickey for a Zoom meeting where someone insists on sharing their screen and my visage runs the risk of being glimpsed. But in the winter, I do exist exclusively in Spanx faux leather leggings (a Jodi's Favorite Things, as it were), which are kind of like the weighted anxiety blanket of clothes.
You simply cannot feel self-conscious in Spanx pants because your legs are sheathed so tightly in spandex you can't actually feel… anything. I have no doubt that The Perfect Black Pant offers the same security; I also have no doubt Oprah hasn't worn pants in over a decade (just silken robes and Christian Siriano gowns) but that doesn't make her wrong.
---
Can you imagine? A house with so few needs that its greatest desire would be a giant corked canister for matches?
Of course you can! This is the universal experience, and Oprah knows it. She knows that some of us may feel a little self-conscious about our walnut-paneled fireplaces — or heaven forbid, oak — but that we all, of course, have fireplaces, and even if those fireplaces aren't surrounded by mahogany, we still deserve the humanity of being able to light our in-home fires with foot-long matches delicately encased by colored glass.
When someone enters a home they can think only one of two things:
This home wants for nothing because it already has many cloches containing many giant matches, or…

This home has has no glass cloches; its floors are littered with giant, loose matches. How can a person live like this? Where is the striking strip upon which they light all of these loose matches? Where is the handsome colored glass that might bring order to this chaos?
Now, I ask you: which experience do you want for you and yours this holiday season? Buy the fucking matches.
---
Much like I claimed that an awesome god has been sending me O, The Oprah Magazine, Oprah believes that god created these small soaps and wrapped them in floral paper for us. She suggests buying one set of soaps to keep, and one to share, which I believe is called evangelism in the biz. Cleanliness is next to godliness, and sometimes — like in the instance of small, decorative soaps — it's both.
---
If they only made one single kids version of the Echo to please this one tiny Paddington Bear of a baby, it will have been entirely worth it.
Alexa! Play baybuh sherk! ALEXA!!! Play berber shirt!
---
Now, we arrive at Oprah's pièce de résistance of this year's My Favorite Things list, the one she knew would send us spinning out with thoughts of, "How absurd—I'll take seven"…
Not one, but two tiny stoneware pots, made specifically to heat wheels of Brie. Gone are the days of suffering through lukewarm Brie; gone are the days of only being able to heat one wheel of brie at a time! And though the photo doesn't show it, I feel sure that Oprah is also suggesting, gone are the days of consuming Brie any other way than wrapped in crescent rolls because Oprah understands that's how the god-of-soap-and-magazines intended for Brie to be baked.
Because Oprah knows that there is no quicker way to elevating a food than by wrapping it in another food and baking it in a tiny pot made specifically for that combination of foods. Imagine, not having an individual pot for bacon-wrapped turkey legs, or baked Alaska, or stuffed peppers, or caramel apples, or turduckens, or baked Brie — imagine how silly you would feel! Thank goodness we all have two of each.
---
What's better than a dog bandana? A dog bandana with a secret.
It's reversible, folks! Just be aware that when you send your dog out for his autonomous nightly stroll where he's tasked with keeping himself safe via his Spot the Dog bandana… he might just come back wearing an unrecognizable pattern, like a teenager who changed into a crop top once they got to the movie theater. But don't be alarmed. He may not be the dog you thought you were raising, but he is safe, and that is the best we can hope for our dog-teens.
---
Truly, I can barely use a liquid eyeliner without creating a crime scene on my face. But Oprah believes in me. She believes that not only can I contour Hadid cheek hollows into my exclusively pudding-based Scottish bone structure, but I can confidently bring a motor into the mix. I can drill foundation onto my face the same way a dental hygienist might drill plaque off of my teeth, and it will have the exact same effect: not a perfect fix after a decade spent drinking Diet Coke — the dental equivalent of battery acid, I've been informed — instead of water, but definitely an improvement.
Get ready world: we're about to FaceTune our under-eyes IRL.
---
Yes, Oprah. May you never come off this pro-bread platform, even when you do eventually become President of the United States.
May your Vice President be soft pretzels, your Secretary of Defense be a croissant, and your Secretary of State be Gayle (obviously).
---
Something that you may find extremely surprising about me is that I've started doing CrossFit. And listen, I don't like saying it anymore than you like hearing it, and please trust that I'm terrible at it. But this is just a necessary preface for what's coming next…
Sometimes at CrossFit, a very muscular coach will explain the workout that's written on the board, and say of an exercise: "That one just looks exactly how it sounds." But what it sounds like is, "double vertical split squat on box, partnered for time (65/95)," and what it ultimately looks like is…a lunge. When Oprah describes this massager as "the Swiss Army knife of neck and back massagers," that creates a mental image that is very much not the simple vibrating fanny pack I see pictured.
Is there a corkscrew inside it? Has my dad had the same one for 40 years? Is it going to be taken at airport security even though I couldn't hurt someone with a samurai sword, let alone a TicTac size blade that doubles as a nail file. I think what she probably means is that this is a neck massager that doubles as a vibrator, just like that makeup dildo she's trying to make me apply CC cream with. And y'know what? I'm gonna buy both of them.
---
Other things this Ninja blender can do: your 2019 taxes; text the guy you've been on three dates with that you don't want to keep dating him, but you also aren't really interested in being friends while somehow not making you seem like an asshole; start a Roth IRA; get rid of that wrinkle deep enough to swipe a debit card through that seems to have appeared on your neck overnight; run your company's social media accounts; remind you when to water your plants; raise your children; impeach Trump.
---
And with that, I once more point you to the list of Oprah non sequiturs at the top of the article, which you can use to derail any Thanksgiving conversation that might lead to a migraine. Because where we're all going, we won't need zippers…
Happy Thanksgiving frandz, see you back here for Hallmark SZN!