Enjoying TATBT's Bachelor coverage? Pass it along to another Bachelor fan, or content creator, or adult virgin who might enjoy it too! And most importantly: the more famous people you send TATBT to on Twitter and Instagram, the more likely I am to fulfill my 2019 resolution of publicly feuding with Chris Harrison....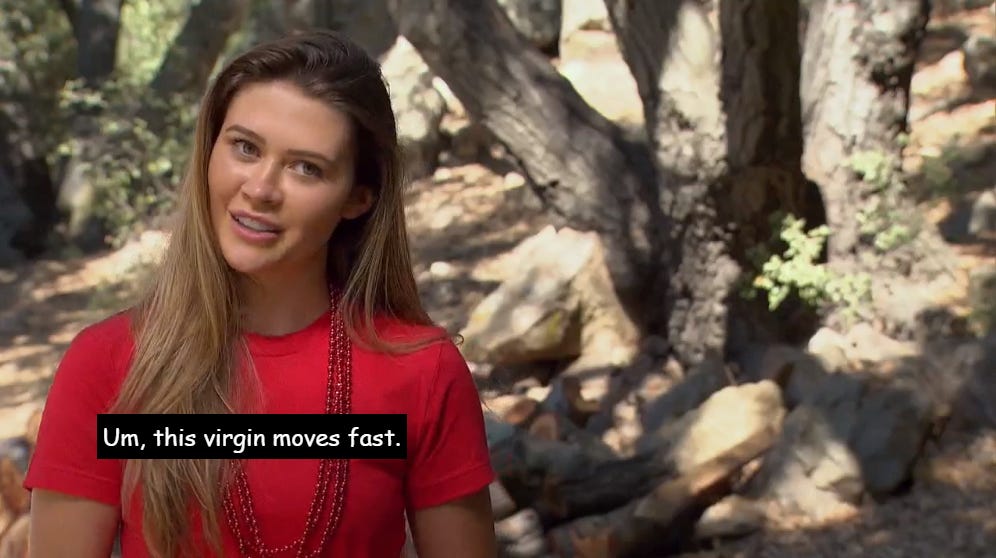 For those of you playing along at home: Colton is still a virgin; all the 27-and-up women in the house have been sequestered into one room so as not to get their old lady germs on anyone; sexual impurity is still a thing women are led to feel shame about; Demi is the little girl from Problem Child all grown up who spent her hard-earned 90s paychecks solely on the Free People clearance rack. And we, my friends — we remain in a prison of our own making.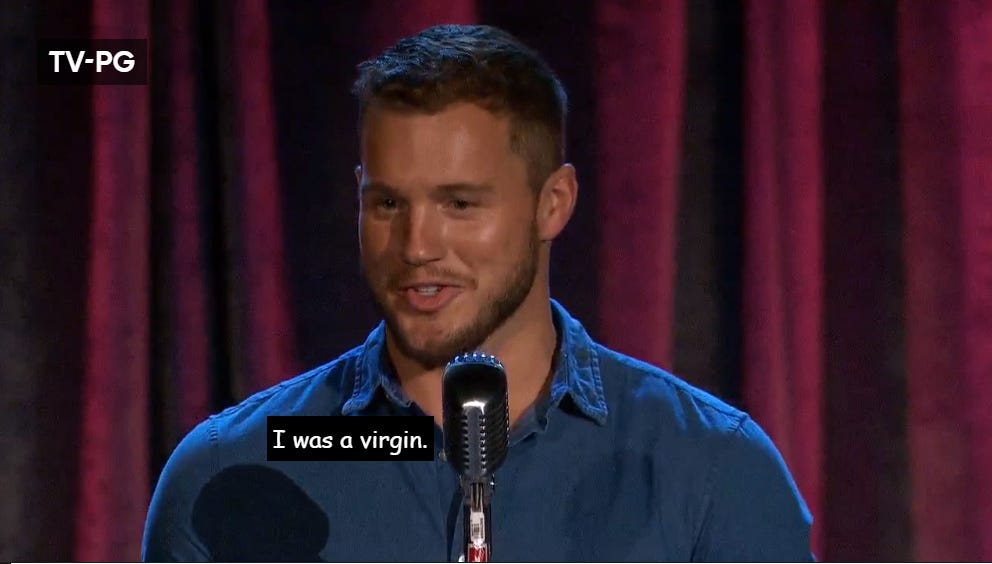 With any new season of The Bachelor, I find myself making a few comparisons to sorority life to describe various situations with the women. The seasons are long, these recaps are long, the perfectly curled blonde hair is long; so at some point I'm probably going to mention that Sara T seems like someone who considers winning the run-off for Kappa Kappa Gama Vice President of Recruitment to be her crowning example of overcoming adversity, and she will tell future employers about it in a cover letter application…
But in this season of The Bachelor — this season chock full of virgin punnery and golden birthday excitement and beauty queen feuds and recent college graduates — I find myself wanting to make a sorority analogy approximately every other scene. I mean, just look at this photo from Chi O bid day: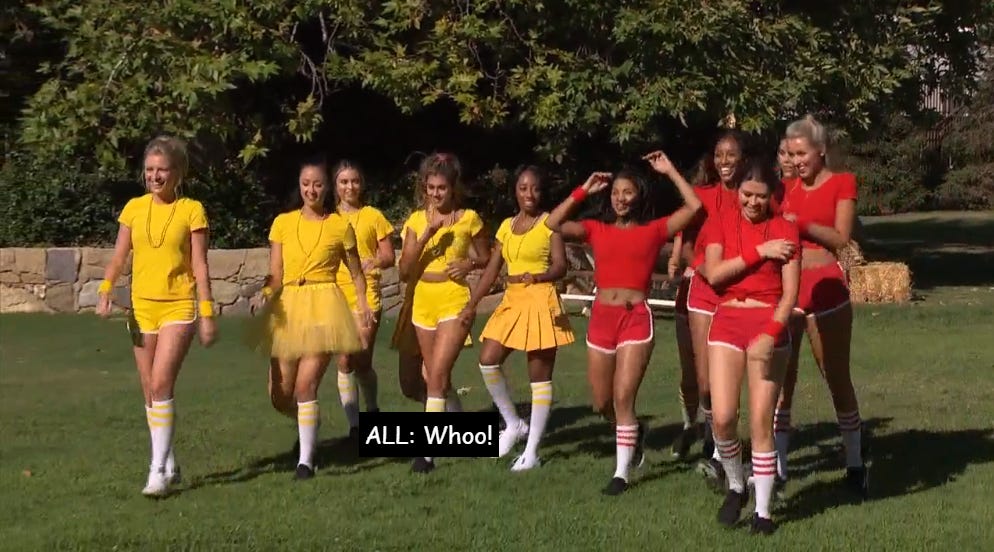 For the record, I was barely in a sorority — we didn't have a house because of that ongoing collegiate urban legend that houses containing more than five women are technically considered brothels in some states, which is not true but it is something we believed, a fun little vantage point on dangerous female sexuality that we will come back to shortly — but watching this season is still giving me visceral flashbacks to my days as a sorority sister, just about the only other time when a group of women this large and this young would ever be grouped together like this.
When the second group date culminated in a literal tug-of-war over Colton's fratty ass, I found myself thinking, tug-of-wars as an adult are actually so hard. Then I thought: Why do I even have that knowledge…? And the reason is: when I was just a year or two younger than many of these women, I competed in a tug-of-war at Sigma Chi Derby Days. Because this season of The Bachelor is basically just a Sigma Chi Derby Days with a lot less sex.
All this is, of course, not to say that age correlates with maturity 100 percent of the time. The budding feud between Demi and Tracy, who both suck in equal measure, is proof that maturity is a spectrum and age is not necessarily the axis upon which it slides. We've got a 31-year-old and a 23-year-old slumming it on the ground-side of this emotional teeter-totter, while high up in the air like the queens that I thus far believe them to be are Elyse, another 31-year-old, and Nicole, a 25-year-old.
What Colton says to Elyse while staring into her beautiful face like a college freshman hoping his English Lit professor is about to risk it all, is true: Age doesn't mean anything…
Except for the times that it does, like: drinking, driving, voting, sexual intercourse, emotional compatibility, Social Security benefits, R-rated movies, renting a car, and getting a senior citizen discount at Waffle House. But are there 23-year-olds who are mentally and emotionally mature enough to commit their lives to another person? Sure! Look at my parents; look at plenty of my friends; look at Sarah Michelle Gellar and Freddie Prinze, Jr., still out there killin' the monogamy game…
It's just that when you put a bunch of early-20-something women in a house together and make them compete for a boyfriend, the youngness really jumps out in a way that i might not otherwise. These women are exclusively calling each other "girls"; they're still throwing around the toxic value judgments they learned at PASSPORT© Christian Camp; they're making loud noises to get attention; they're hand-wringing about other girls "heading upstairs" with boys. And most tellingly: they think being young is somehow superior to being old.
Or, at least one of them does.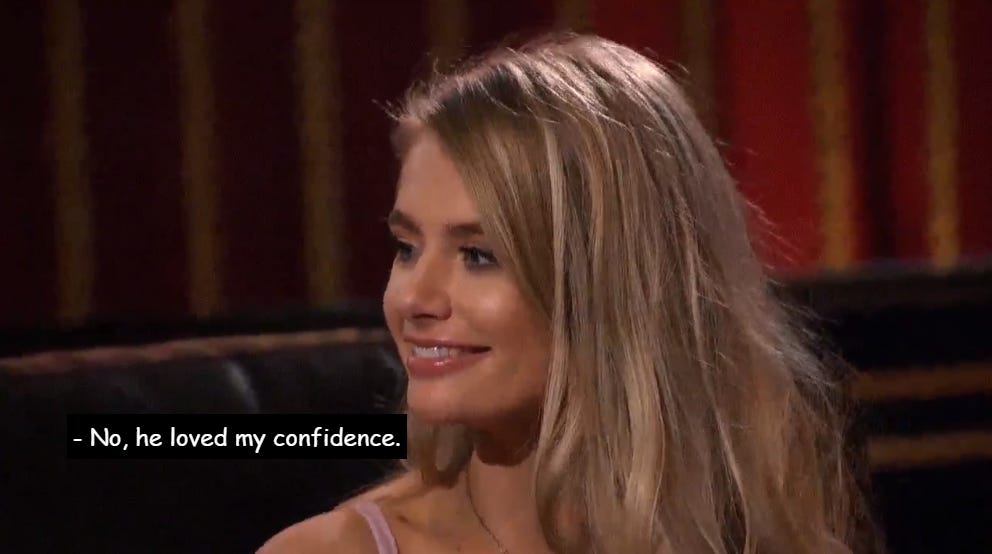 Ohhhhh, Demi, Demi, Demi. Only a 23-year-old thinks being a 23-year-old is a net positive. I look back on being 23 and, sure, it was fun to barely need to wear a bra or know the difference between hyaluronic and glycolic acids, but it's only because I didn't know any better.
The thing that Demi seems to be overlooking when she rags on the women older than her is that: good and bad, time rails against all of us. Shaming Tracy and Elyse for being 31 is like a puppy shaming a dog for being a dog. Glenn Close did not cause a Golden Globes upset and make me ugly cry with that speech about her mom for this tart in an Elsa wig to call Elyse "brave" for being "willing to admit" she's 31-years-old.
Oh yes, age comes for all of us, Demi. Your ovaries will lose their viable eggs, and that space between your eyebrows will gain a permanently furrowed pause sign just as sure as Tracy's will. You can only hope you do the hard emotional work along the way so that when your time comes, you're happy enough with where you've ended up to not end up crying on the ground because a sentient My Size Barbie was mean to you during a fake party.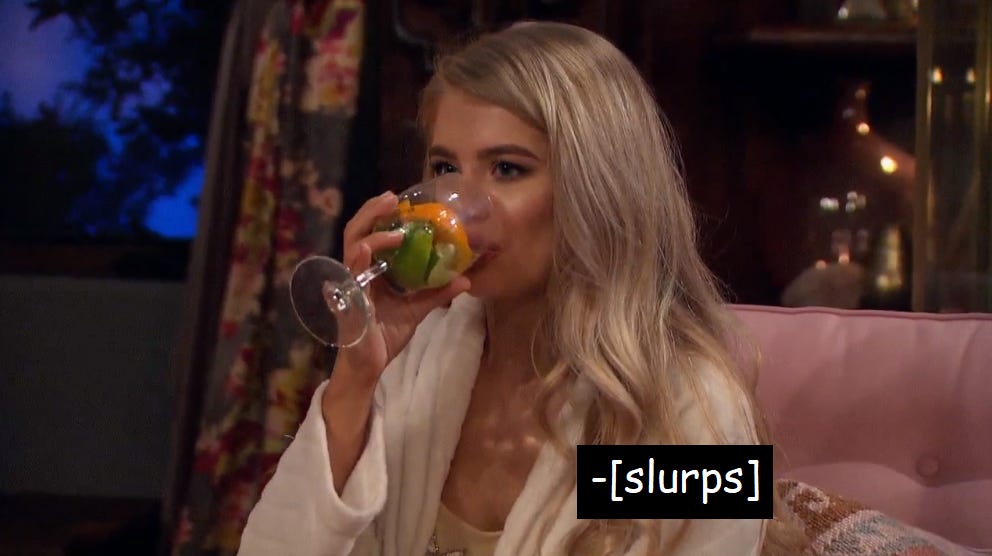 Aaaaanyway, the fish rots at the head, and here our golden fraternity president stands, thinking he really has a handle on planning Beach Weekend this year, not realizing that ABC is about to push him so thoroughly into the virgin-as-personality corner, that the rest of the rich tapestry of emotional turmoil that consumes his mind will surely explode outward in a geyser-like fashion.
If they really wanted to commit to this sorority cosplay bit they've been doing so far, they'd give us that age-old trope about the hot, nice guy you went to college with who never seemed to be interested in the girls that were interested in him, got one step off campus after graduation, moved to San Francisco, and left us all slapping our heads for being so oblivious, but feeling really happy for that hot, nice guy.
Do you hear me, Colton? We would be really happy for that hot, nice guy!!!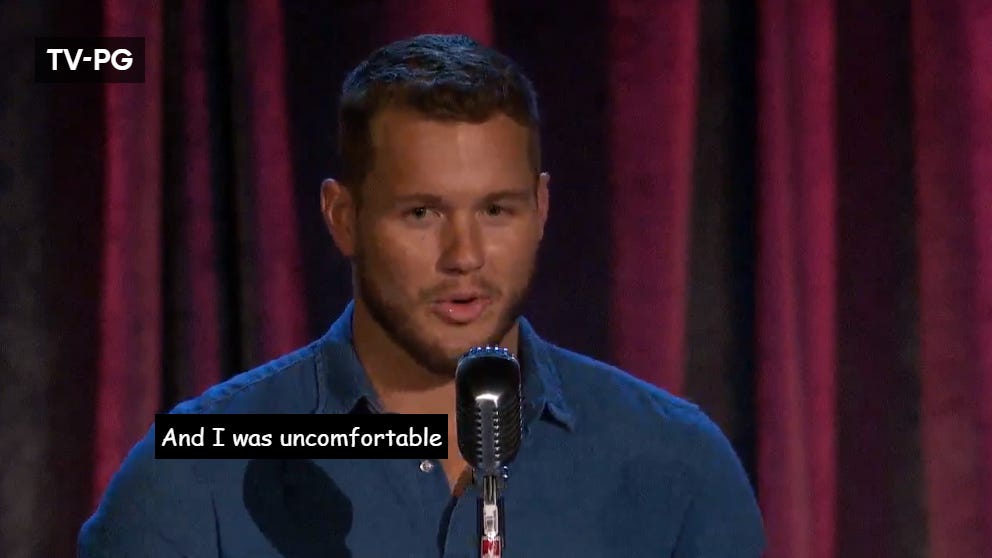 FIRST IS WORST
There are a few weird firsts happening in this season of The Bachelor that have nothing to do with Colton (please no, please no, please no) having sex for the first time in the Fantasy Suites Brought to You By Chris Harrison and Throw Pillows™, nor the forced theme of the season's first group date.
No, first, there's this thing where ABC is showing a full preview of the season at every other commercial break, like if we don't see 220 pounds of linebacker haul himself over a gate and Hannah B drawling, "Wut…jest…happind" every 20 minutes, we're going to lose interest in the season.
ABC, if we let you choose a jobless man-boy as the Bachelor and still followed you into the season, one might surmise that you could literally come home at midnight smelling of Clinique Happy with your shirt on inside out, telling us it was a real long night at the office with your co-worker Larissa… and we would still be right here with you through the Final Rose. We have just that much self-loathing.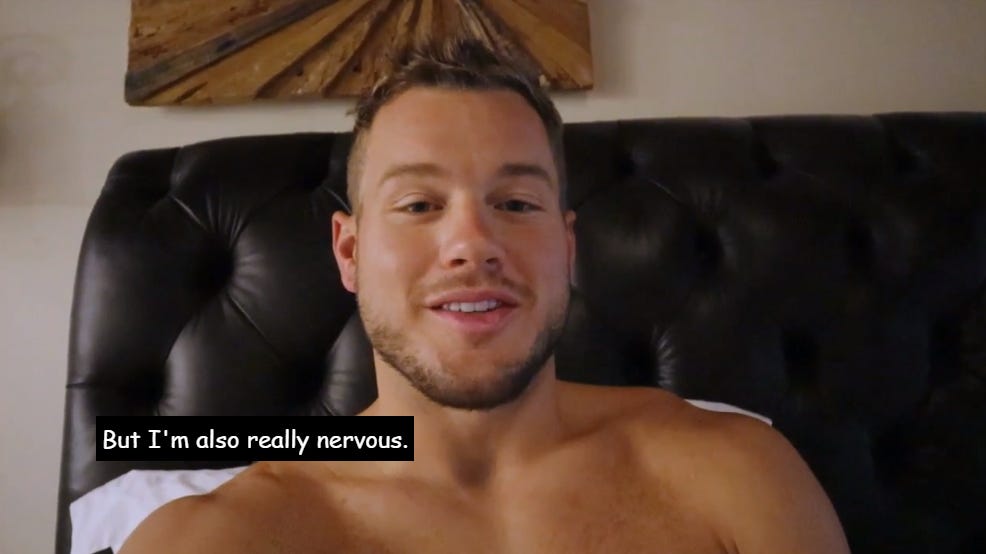 But no one could have more than Colton who is now a…VLOGGER???
He opens the episode doing, like, a video confessional style that we've never seen from this show before? I'm sure he's giving us a ton of great insight into his current feelings and fears, but all I can look at is how he keeps ruffling his hair like all my most loved and loathed Instagram-Live-ers. What is it about seeing ourselves in a screen that makes us want to continually adjust our hair, and what is it that makes us think no one will notice us touching our bangs every 10 seconds?